Become A Successful Recruitment Franchise
Start your own recruitment business while ensuring profits and a 100% ROI!
You only need a low-cost investment. Running an Alliance Recruitment Agency franchise business gives you a sure-fire opportunity to earn a substantial income.
About Alliance Recruitment Agency Franchise Network
We are a global business offering a broad range of manpower sourcing, HR consultancy, staffing and recruitment, and outsourcing support services. Over 11+ years, we have established a presence in countries across four continents, completing around 20,000 recruitment projects.
Our recruitment franchise solutions include feasibility studies, business strategy and operations management support, marketing and recruitment support, branding support, and much more. Through the expert guidance of our franchise consultants, you will be able to easily select the franchising model that best suits your abilities and strengths.
To become the best recruitment franchise or rank among the best staffing franchises, all you need is experience in managing recruitment, good industry insights, and a strong business acumen. With the support of our agency, you could set up a successful low-cost recruitment franchise business or an international recruitment franchise.
Our Recruitment Agency Franchise Solutions
Types of Recruitment Franchise Business Opportunities
1. Local or Region-based Recruitment Agency Franchise
You could be based in the Middle East, South Asia, India or anywhere in Europe, North Americas or Africa. Based on the area of your operations, you will be offering services to local and regional clients. You will be able to leverage the Alliance Recruitment Agency market strengths, network, talent pool access, and brand recognition and develop your business as one the best staffing franchises or best recruitment franchises in your region of operations.
2. Global or International Recruitment Agency Franchise
If you have international recruitment experience with a great proven track record in global placements, Alliance Recruitment Agency will enable you to launch an international recruitment agency franchise.
You do not have to worry about laws, regulations, compliance, operations setup procedures, etc. Our experts offer training, guidance, and extensive support for all these matters, as they are well-conversant with the various laws and operating environment in numerous countries.
3. Low-Cost Recruitment Franchise
You could launch a low-cost recruitment franchise when you want to invest less in physical infrastructure and focus more on digital and virtual resources. This business option is ideal for highly experienced recruitment consultants who want to set up their business with very less capital.
Types of Solutions and Support Provided to Setup and Strengthen Your Business
1. Training and Expert Guidance To
Launch an agency
Acquire technical expertise
Manage operations and back-office activities such as payroll processing, legal and compliance functions
2. Operations Support Through
Assistance with database management, requirement management, reporting, people management, etc.
Invoicing and payment collections management
Advisory solutions for running your operations, including business development, delivery, finance, manpower issues, etc.
Expert ongoing marketing and business development guidance and assistance
Operations cost optimization
3. Advisory Support for Infrastructure Management
Technical and Technology Infrastructure
Office Layout Planning
Resource Management
4. Support With Recruitment Activities
Access to several recruitment software and the online database used by our company
Guidance to drive manpower sourcing activities
Access to job portals and other similar resources
Continual guidance on recruitment management for business success
Benefits of Our Solutions
100% return on investment likely in the first year itself
Ability to gain 2X more revenues
Support with leads generation and sales management
Increased income generation sources through renewals and related services
Increasing customer base – through our extended support in recruitment management
Low-cost, lean and seamless recruitment operations management
Access to our real-time technology support without much investment
Become a market leader within a short time
Get-Set-Go Model – Quick ROI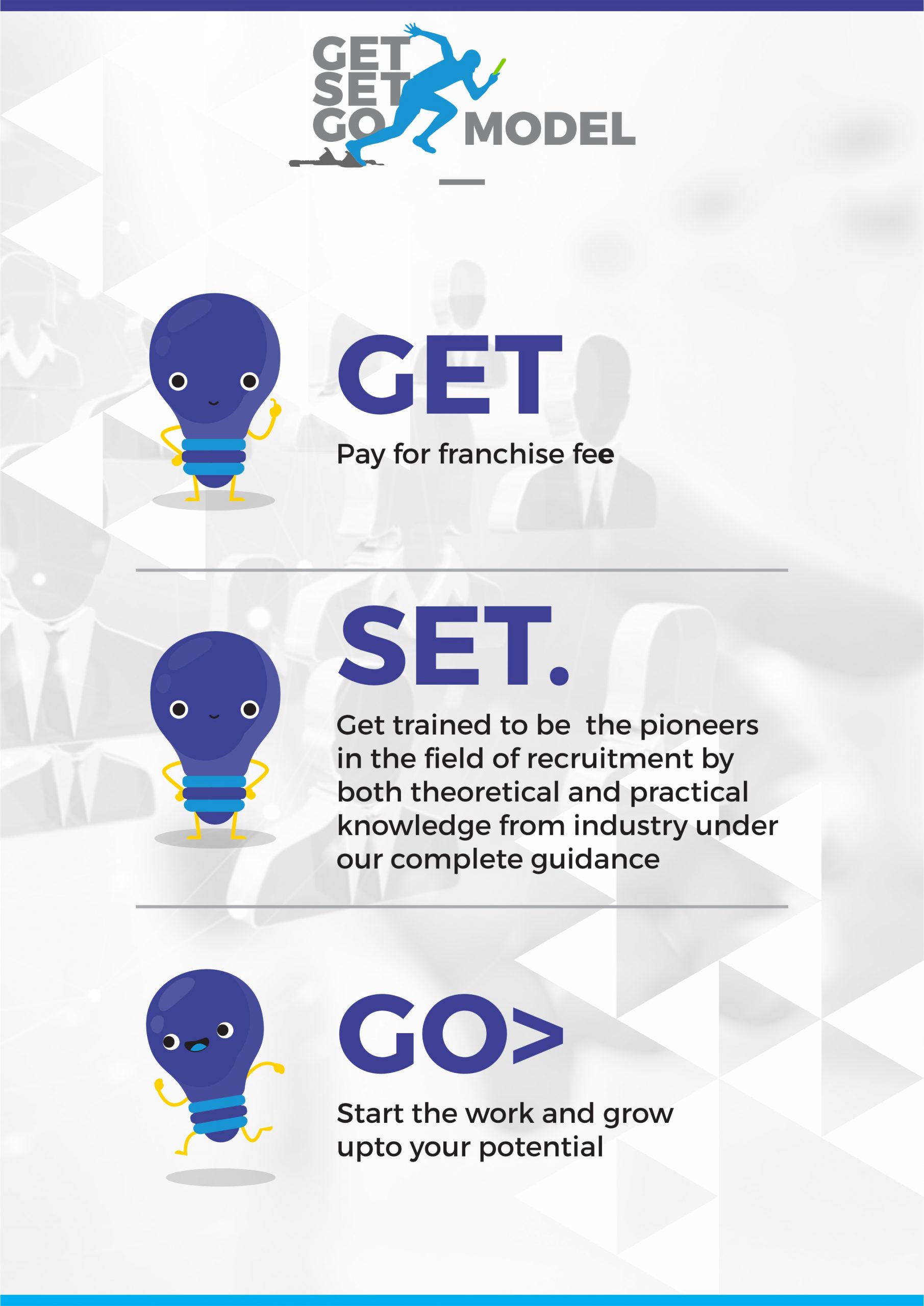 Important Note for all candidates - Please note that we do not charge MONEY FROM CANDIDATES in return of job offers/interviews. For more information
Click Here